Commercial, Commercial & Workplace, Education
Royal Victorian Aero Club
Location
Moorabbin, Victoria
Client
Royal Victorian Aero Club
Area
548 sqm
Status
Town Planning Stage
Project cost
$1.2m
The new building for RVAC will be a focal point for flight training and enthusiasts at the Moorabbin Airport. Replacing the tired worn timber building and portables will be a slick, noble pavilion over 2 levels. Expressed architecturally as 2 slipping forms, a raised blue metallic fuselage glides over the glass and panelled base below. Ideas about flight and craft are evident, expressing movement and elegant poise above the ground.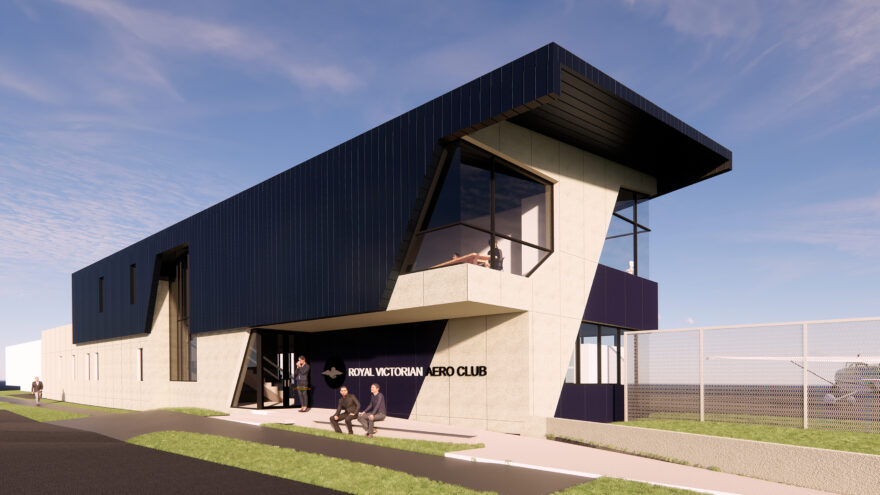 The pride of the club is on display with royal blue cladding announcing its position on the runway.
The planning of the building embraces a bold future for the club. Improved facilities for staff, instructors and all members will be realised. A centralised arrival point will greet all visitors, with an adjacent flight lounge enjoying views over the airfield. Workspaces for instructors and staff, together with briefing and flight planning spaces complete the ground level.
An upper level was strongly desired to maximise views over the airstrip. Here a members' open lounge and the kitchen is intended to encourage interaction and friendship and is expressed with large glass windows facing out to the airfield.  A variety of educational spaces provide enhanced facilities for the training of tomorrow's best pilots.
The new building whilst proudly embracing its royal pedigree further provides a contemporary and visionary outlook for the sustained growth and future of the club.