Commercial, Commercial & Workplace, Interior
Katz Architecture Office
Commercial, Commercial & Workplace, Interior
Katz Architecture Office
Commercial, Commercial & Workplace, Interior
Katz Architecture Office
Commercial, Commercial & Workplace, Interior
Katz Architecture Office
Modern inserts define new functions
Location
28 Gwynne Street, Cremorne, Victoria
Client
Katz Architecture
Area
200sqm
Status
Completed
Project cost

$500k
The project repurposes an old factory into a vibrant contemporary studio. Built completely to title boundary, upper-level highlight windows and skylights filter natural light into space as the first key ingredient for workplace success.
The facade features the company's bold and identifiable orange branding, a colour chosen to reflect the site responsive work that the practice is well known for. The colour resonates as Australian, with strong connections to the red earthy centre of Australia.
The urban context of Cremorne is acknowledged with a concrete grey that provides a neutral background.  The orange is graphically transposed onto the facade with an abstraction of the firm's award-winning graphic.
The journey continues to the interior, with the bold orange wrapping inside and into the main meeting space, clearly identifiable with the Practice. The colour is complimented with likewise earthy features: the original raw concrete block walls, with imperfections from its industrial past, are retained and encapsulate the space.  The floor is hard-wearing concrete with only a patch of turf to soften the breakout area.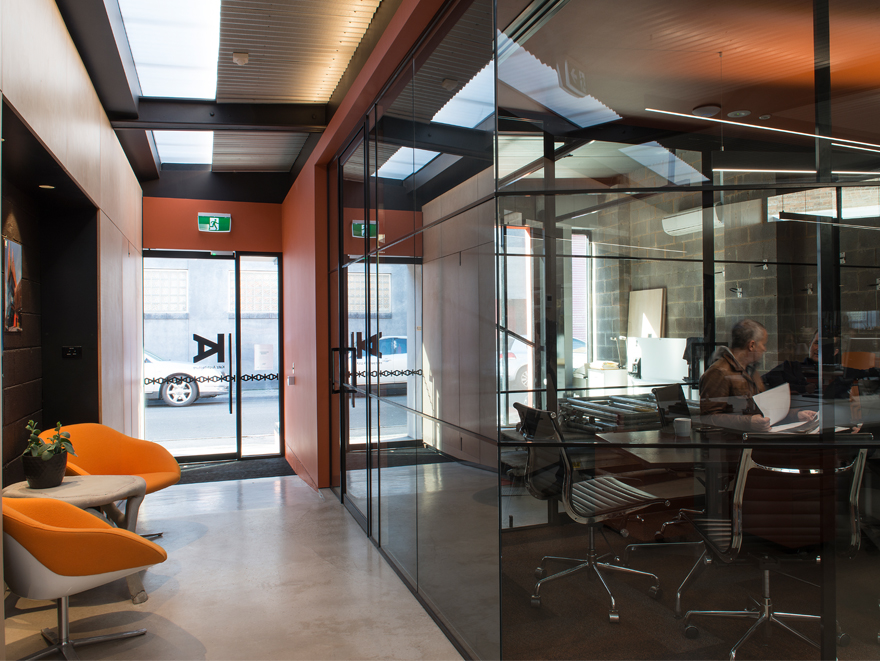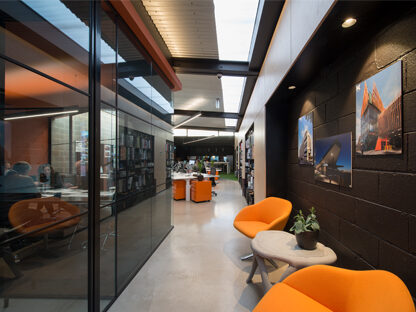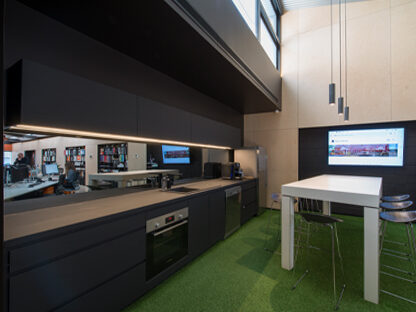 Inserted into the old is a warm plywood veneer, running continuously from front to back and providing a biophilic element throughout. It is punctuated regularly with dark recesses providing space for shelving, display, and seating alcoves.
The rear wall features the same warm dark almost black that acts as a recessive element, extending the space indefinitely. This is further embellished with a mirror splashback that proudly reflects the interior view safely back into space.
Ceilings feature raw perforated zincalume sheet, highlighted with suspended LED lights that accentuate the dramatic height of the space and reflects its industrial past.  Dynamically aligned along with the angled workstations, the lights complete the journey, and energy emanating from the one-way street approach outside.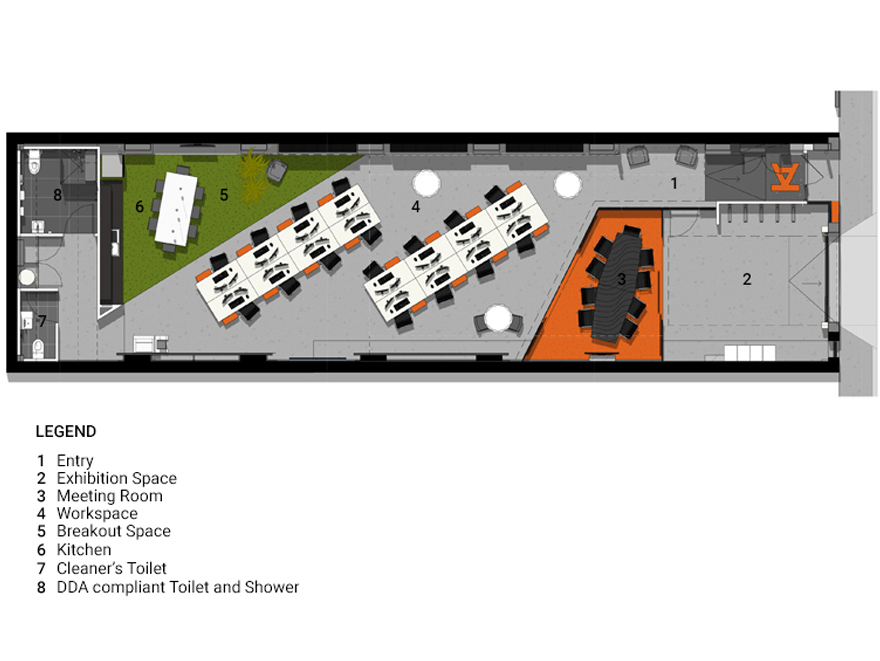 The reuse and repurpose of the old industrial building into a vibrant new studio ensures the retention of the embodied energy of the base building materials.  Thick concrete walls are retained complete with imperfections that characterise its history. Together with exposed concrete floors, excellent thermal mass is achieved to ensure minimal temperature fluctuations internally.
As a single-level building, full advantage of skylights is made throughout to maximise daylight and minimise the use of high efficiency LED lighting. The raised ceiling features high-performance double glass, with blinds to control glare. Operable electronic controls to pairs of window awnings enable complete natural ventilation.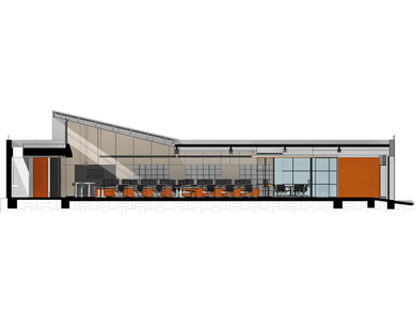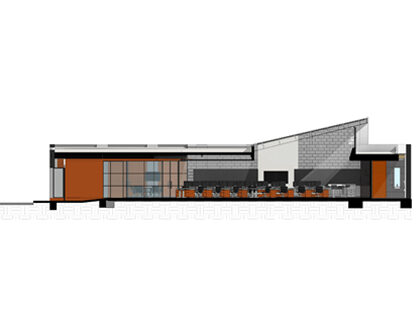 When required, two separate mechanical units can be used independently, and are discretely located in perimeter ceilings without any messy ducting requirement. The main ceilings are constructed from raw zinc sheet, perforated for acoustics, and requires no painting or maintenance for life.
Workstations and furniture are 100% recycled, sourced from a large ANZ city relocation. Plants throughout offer greenery and contribute further to IEQ and a safe and healthy interior.