Community & Civic, Education, Interior
Keilor Community Hub
Community & Civic, Education, Interior
Keilor Community Hub
Community & Civic, Education, Interior
Keilor Community Hub
Community & Civic, Education, Interior
Keilor Community Hub
Community & Civic, Education, Interior
Keilor Community Hub
Community & Civic, Education, Interior
Keilor Community Hub
Location
Keilor, Victoria
Client
Brimbank City Council
Area
2000 sqm
Status
Completed 2017
Sustainability
Designed to meet a 5 Star Green Star Rating
Project Cost
$3.5 m
Achievements
Re-purposing of building for a range of community functions
An internal street leads to a range of community services whilst adding a vibrant central social space promoting chance encounters.
A modest 500 sqm library is complemented with community meeting rooms, art and exhibitions spaces, IT Room and a commercial tenancy to provide a lively community hub for the Keilor community.
A community building needs to be warm and inviting:  colour is used to provide a friendly building, whilst also providing a strong identity to the various functions contained in the hub.
A range of free-form objects further strengthens the clear identity for each function, making it easy and intuitive to find.
"a vibrant central social space promoting chance encounters"
Passive energy features include large internal roof lights that allow natural light into the deep footprint, providing bright and healthy spaces.
The project involved considerable consultation with the various groups contained in the building.  Clever design solutions brought together the synergies between such groups to ensure sharing and maximum utilisation of all spaces.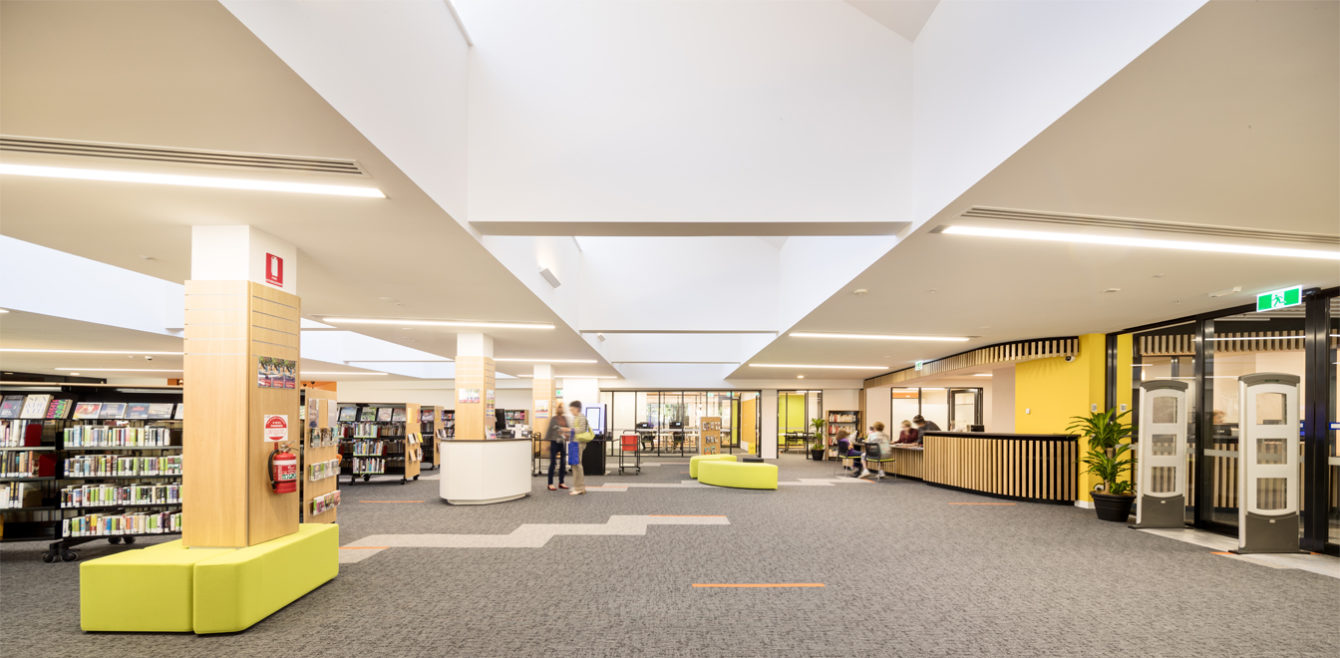 "Their [Katz Architecture's] Design abilities were well complimented with necessary technical skills, and they coordinated works with consultants and builder throughout the process."
Phillip Chew
Brimbank City Council Member