Residential
East Melbourne Residence
Residential
East Melbourne Residence
Residential
East Melbourne Residence
Residential
East Melbourne Residence
Residential
East Melbourne Residence
Residential
East Melbourne Residence
Bridging Tradition with Contemporary
Location
East Melbourne, Victoria
Client
Private
Area
300 sqm
Status
Completed
Project cost
$ 1.45M
Our approach to the renovation tries to encapsulate the very essence of Melbourne – the juxtaposition of the old and new architecture that celebrates and respects both. Concealed behind the heritage front is a contrasting addition that speaks of a bold future whilst acknowledging the established Victorian residence.
The deep floor plan is punctuated with two internal courtyards that separate the levels and eras, with new works respectfully detached from the textural brick façade of the past. A glass link seamlessly connects old to new, with a bridge and dramatic stair linking the traditional and the contemporary, both physically and spiritually.
The value in this connection brings light and air throughout all parts of the residence, whilst also providing exterior spaces for contemplation and relaxation amidst the bustle of city life.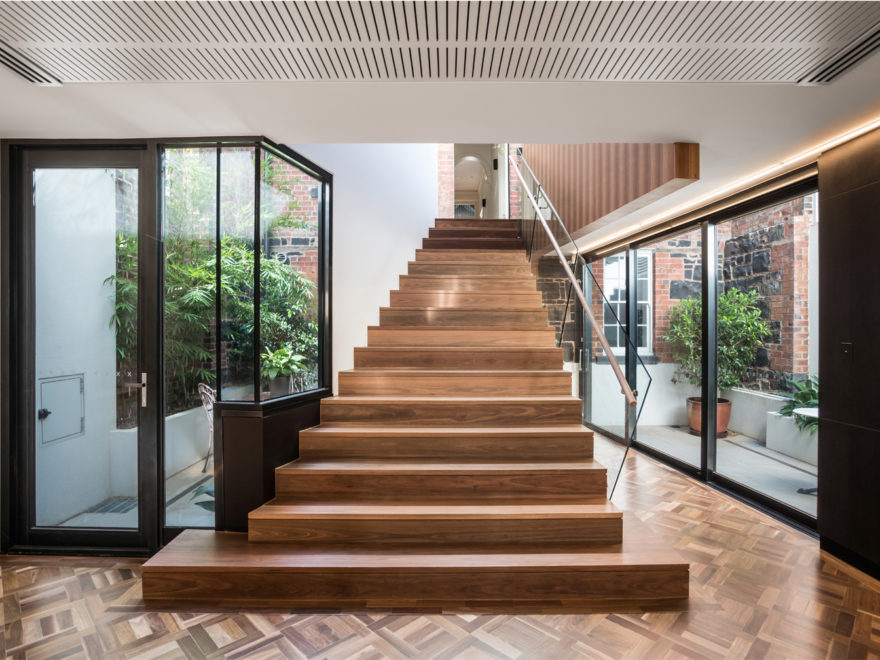 Bridging the gap between not only the tradition and the contemporary but also between the indoors and outdoors. The bridge is a connection that is seamless yet identifiable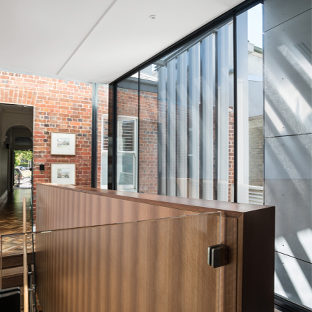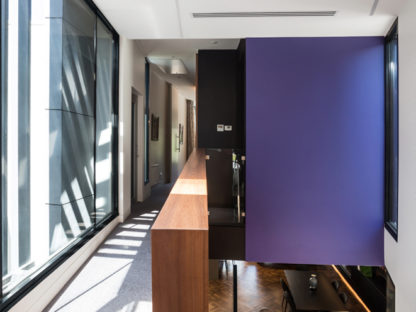 A new open plan living and kitchen area enjoy the northern sunlight and connection from the courtyards, whilst focusing on a leafy and generous rear entertainment space to the rear. Large sliding windows blur the line between indoors and outdoors and provides a generosity that belies the modest scale of the residence. The dynamic floating form above is set in from boundary levels to respect neighbouring residences and gardens, yet extends over the ground level to provide shading and protection to the living space doors below. A staccato of fins dramatically continues past the line of the façade at both east and western ends, providing a visual feature that prevents overlooking and screens neighbouring properties.
Lift and stairs provide easy access to the upper-level bedrooms and living spaces, tastefully finished with curved timber panelled walls and mosaic-lined bathrooms. A central pop of colour on the central wall adds to the dynamism of the house, providing a sense of direction and an area of focus that immediately orientates.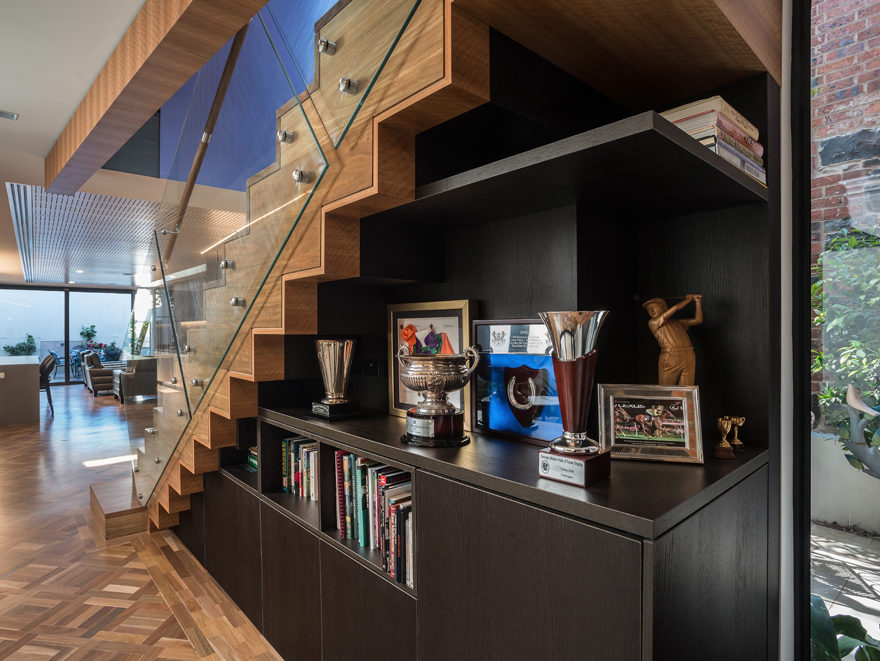 "To say our expectations were exceeded is an understatement, the home exudes style, whilst not detracting from its primary role as a home"
John Connellan
Owner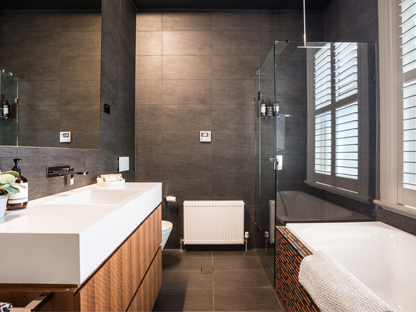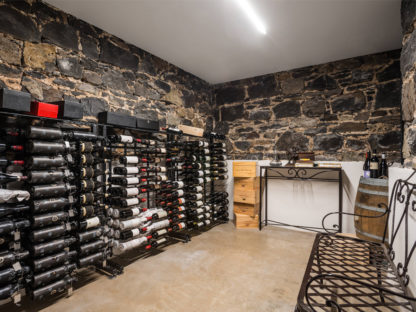 Carefully considered joinery helps the clients navigate through their daily life. A large built-in unit adorns the main living space and accommodates all the necessary modern conveniences – AV, fire place and general storage. Beneath the staircase provided another opportunity for the display of racing memorabilia and convenient yet discrete charging points for technology.
Finishes of spotted gum joinery and floors, with dark accented stained timber, provide strong focus elements within a relatively neutral yet warm interior palette