Commercial & Workplace, Interior
Launch Pad 132 Cremorne Street
Commercial & Workplace, Interior
Launch Pad 132 Cremorne Street
Commercial & Workplace, Interior
Launch Pad 132 Cremorne Street
Commercial & Workplace, Interior
Launch Pad 132 Cremorne Street
Industrial Revival: creating a thriving corporate community
Location
Cremorne, Melbourne
Client
Launchpad
Status
Complete 2016
This concept transforms an industrial warehouse into a vibrant workplace community.
A total of 180 workstations across 1650sqm of floor space are provided in a range of alternative spaces including open plan, open studio, shop front and segregated offices.
A large breakout space is identified with a heritage tram, providing a strong focal point for the community as well as being able to host a variety of large- scale corporate events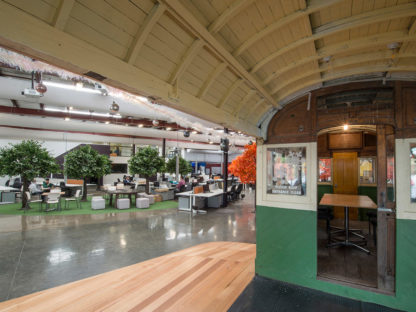 A range of meeting and breakout spaces are shared by the business community, each supported with state -of- the art AV and technology.
Significant care has been taken to ensure that each space is intimate. A total of 17 trees segregate and divide the large space into smaller areas.
"Futuristic workspace springs off heritage and local theme."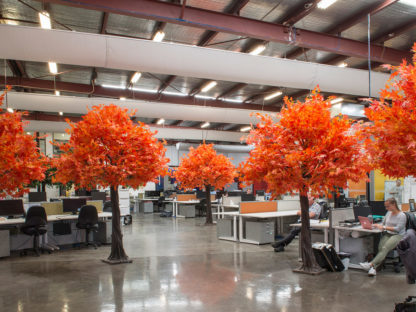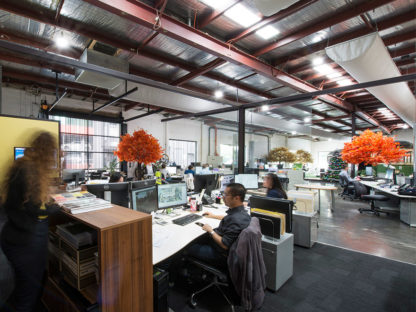 The design applies a local Cremorne theme to arrange, locate and circulate through the space.
The Yarra River trail winds its way through the plan and provides direct access to the adjacent open plan workstation areas.
Herring island breakout space is centred beside the main breakout space.
A range of colourful open studios animate the rear wall and provide strong visual shop fronts into the space.
Views Above
The interior is characterised by the heritage tram with workspaces and breakout areas arranged around it.