Community & Civic
Caloola Reserve Pavilion
Community & Civic
Caloola Reserve Pavilion
Community & Civic
Caloola Reserve Pavilion
Community & Civic
Caloola Reserve Pavilion
Dynamic Objects in the Park
Location
Oakleigh, Victoria
Client
City of Monash
Traditional Custodians
The people of the Kulin Nation
Area
614m2
Status
Completed, 2021
Sustainability
Designed to meet Council ESD targets
Project cost
$ 3.5m
Awards
ESD Grant 2018
Articulated as 3 complimentary objects in the park, this unique pavilion serves many sports including tennis, soccer and cricket. The building, therefore, must relate to the large sports fields for cricket and soccer to the north, whilst equally addressing the tennis courts to the south. A centralised multi-purpose social space is shared by all users and takes in views both north and south.  Support spaces for kitchen, store and amenities are positioned to the sides to enable the dramatic see-through space to be realised.
This form is clad in zinc, a natural material that blends with its environment whilst lifting the focus to the main central pavilion. The two subservient forms for storage and change rooms are clad in a modest ribbed monument colorbond, with vertical faces dynamically angled and coloured to energise the form.
Clad in Custom Orb Monument, they site lower and longer over the landscape, reaching out with a floating cantilevered steel canopy that welcomes users. The vertical facades are dynamically angled and coloured to energise the form. Complimentary rain water goods and fascia are likewise clad in colourbond, and to compliment the form.
"This development has been a win win from every user group… what we have here is first class!"
Peter Webb
President Oakleigh Cricket Club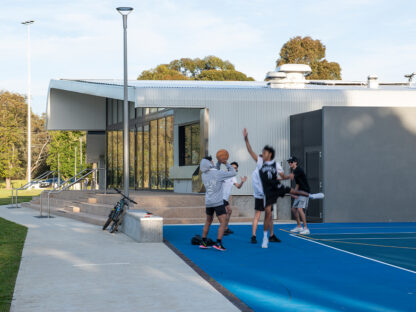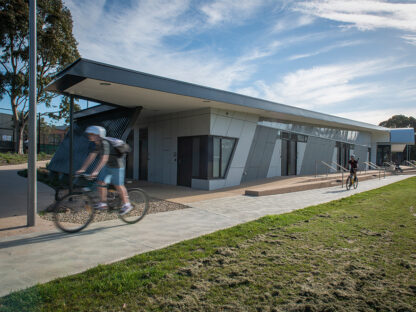 Key change rooms that service the playing fields are located in a slim leaning form to the east, providing simple direct access to the fields. Existing trees are sensitively retained beside the change room block, ensuring a well-advanced landscape response upon completion of the works. An east-west pathway is maintained to link pedestrian and bicycle access to the pavilion across and through the site; thereby integrating it with its local community. New Hot Shot Courts are integrated with the building design, with a separate store pavilion expressed as an end piece to the composition.
An east-west pathway maintains the link to pedestrian and bicycle access to the pavilion, integrating it with its local community.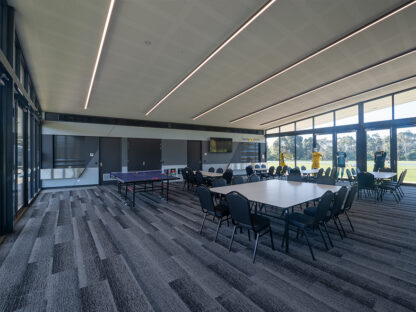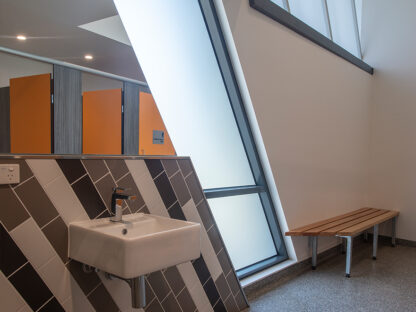 The roof is a highly visible element and able to be seen across the playing fields.  Therefore the careful detail and integrated whole object response are climaxed with a malleable material that is able to wrap and curve sinuously from wall to roof element.
The dynamic steel roof forms are detached from the walls with glass and polycarbonate highlights.  This enables the steel forms to be expressed as linear floating and dynamic objects in the park.