Floating Form
Edited by: EMMA VANGELOVICH
Architect PAUL KATZ chose COLORBOND® steel for his 'Floating Form' inner city residence in Melbourne, saying "being elevated, a strong, lightweight and easy to maintain material was required for the cladding…and it also needed to work with intricate details, like the folding of the COLORBOND® steel around the windows to create strong, modern outlines, whilst elegantly accommodating sun and privacy screens". It's a really elegant design that's brimming with practical features; everything you would expect when an architect is building a home for themselves. Paul was kind enough to talk some more about his experience as an architect, and as a home-builder….
What's the most rewarding aspect of being an architect?
An architect's role is to surpass expectations rather than to merely meet them. This is the greatest thing about being an architect. We love to hear what clients are wanting to achieve, learn of their needs and requirements, and to resolve these in a way that delivers much more than they expected. This may be through a clever functional response or a poetic solution to the site. Architecture in itself should not only achieve all the functional requirements and needs but also excite and go beyond what is expected. I love the challenge that this presents, and realising it is the hardest and most rewarding aspect of being an architect.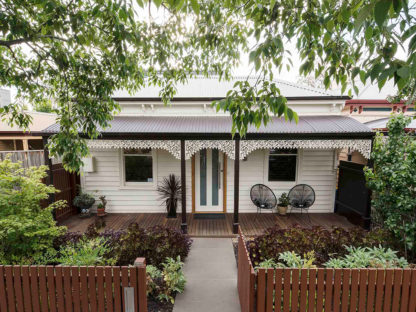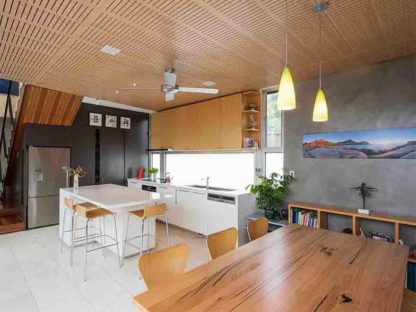 Did you find it more difficult being the architect for your own home?
As my own client I am pretty difficult and demanding, but then I probably do that on all my projects regardless. The design process is demanding and difficult with no right and wrong solution apart from what you define. I find that I constantly question myself and decisions we are making through the design process. I am constantly critical of what we are producing. This self-critiquing is central to discovering the best solution for every aspect of the project.
Being both the architect and client does have challenges. My own project is always the one that gets put off till we have time. For this reason, it can take some time to realise but this can be a great advantage, providing time to think and ponder the design over and to imagine the way in which you will inhabit and use the building. This is often not always possible on projects, but giving the design process time can be advantageous.
What aspect of the 'Floating Form' design are you most proud of?
Simple ideas conveyed are the most successful. Floating form, in essence, is a simple object floating in space. A full north-facing glass wall separates the metallic form from the ground and gives the impression of it floating. The reality of achieving this is quite difficult, and a number of clever structural techniques are employed. The projection of the metallic object over the northern glass below provides controlled shading to the glass. I think the image of it floating is very successful.
What do you think makes Australian architecture different to architecture in other countries?
I think we are constantly searching for our own expression and unique regional approach. The outcome is a distinct response to our country's values, aspirations and features. For me, I am interested in architecture relevant to the place and context in which it is sited. It needs to consider its immediate surrounds, respond to the natural features of the environment and be sustainable and responsible in its execution. The Australian environment is harsh, but smart design can harness the inherent energy in our natural environment to complement our way of life. This can stimulate a unique regional architectural response that may be further celebrated through the form, treatment and materials used.

What advice would you give to someone planning on building their own home?
Think outside the box and think BIG
Design smart and smaller rather than huge and lavish – quality not quantity
Really think about the spaces you need, how often they are used and look for ways in which to save space. Saving space saves money – which means your budget may extend to include better quality finishes and fixtures
Think about spaces, not rooms – and consider volume.
Get good design advice – the amount of badly designed and poorly orientated homes absolutely astounds me.
Get orientation right and get northern light into your building.
What is the next project where you'll be using COLORBOND® steel?
Every one of our projects uses COLORBOND® steel somewhere. It is an affordable, sustainable choice that offers a terrific range of colours and finishes. We have used COLORBOND® steel for roofs, cladding, counters and even interior linings. We are currently designing a new church and community building that we intend to wrap in COLORBOND® steel, providing an uplifting façade for a strong identity and appropriate regional response. We love the flexibility offered by COLORBOND® steel: it can be both a seamless wall and roof cladding solution to provide a grander, more monolithic response – which for this humble little building is important. It also offers good value for money, as a highly durable and reliable cladding material that needs very little maintenance over time